Accomplishments for a Resume: Key Achievements & Awards
On your resume, listing your skills, duties, and responsibilities won't do. To land that dream gig, you need to highlight your achievements. Here's how.
Did you know that putting professional achievements and accomplishments on a resume is the #1 key to making every employer want to hire you?
And yet, most candidates only outline duties and responsibilities. But, hey—the employer knows what you did from your job title! If you list achievements, accomplishments, and awards on your resume, though, you'll show how well you performed. You'll be well ahead of your competition.
Is it hard for you to describe your achievements? You came to the right place to learn all you need to know.
This guide will show you:
99+ examples of achievements to put on resumes (you'll find examples for your profession!)
How to list achievements and awards on a resume to impress every recruiter.
How to come up with great, quantified accomplishments for a resume even if you think you have none.
Want to save time and have your resume ready in 5 minutes? Try our resume builder. It's fast and easy to use. Plus, you'll get ready-made content to add with one click. See 20+ resume templates and create your resume here.
Sample resume made with our builder—See more resume examples here.
Are you looking for specific resume examples? See:
Right below, you'll see a list of ideas for achievements and accomplishments for a resume.
If you want to see typical achievements for specific professions and industries, just scroll further or use the table of contents below to go to a list of sample accomplishments related to your job.
Table of Contents: Achievements for Resumes Sorted by Professions
Administrative Assistant
Receptionist
Secretary
Office Manager
Sales Representative
Customer Service Officer/Customer Service Rep
Cashier
Software Engineer
Web Developer
UX/UI Designer
Entry-Level Candidate
Internship Candidate
Teacher
Tutor
Research Assistant
Academic Professor
Nurse
Medical Assistant
Dental Assistant
Financial Analyst
Business Analyst
HR Specialist
Banker
Project Manager
Team Manager
Director
Marketing Specialist
Graphic Designer
PR Specialist
Mechanical Engineer
Electrical Engineer
Civil Engineer
1. List of Accomplishments and 60 Examples of Career Achievements for a Resume by Industry
We've decided to give you the meat right away.
Here are the types of professional wins that recruiters expect to see on your resume to consider you as an attractive candidate:
List of Professional Achievements for Resume
Revenue or sales you increased for the company
Money you saved for the company
Time you saved for the company
Problems you identified and solved
Ideas or innovations you introduced
Procedures or systems you developed, implemented, or optimized
Special projects you worked on
Industry awards you won (i.e., Best Digital Marketing Campaign Award)
Work-related awards you won (i.e., Salesperson of The Year)
Promotions to higher positions you got in your job
Additional training you completed and professional certifications you received
Funding, grants or scholarships you received
Popular publications, reports or presentations you (co)authored
Blogging and influencing on social media
Media coverage you gained for the company
Other accomplishments such as volunteering or achievements in sports
As you can see, there are multiple types of accomplishments you can put on a resume. To learn more about listing particular types of achievements, switch over to one of our dedicated guides.
Now, let's see how that works in practice on resumes for different professions.
You can copy the examples below, paste them into your resume and make minor adjustments: enter your actual metrics and KPIs and list projects and initiatives in which you participated.
Keep reading if you want to know exactly where and how to put achievements and awards on a resume to always grab the attention of decision-makers.
Plus, we'll share some great hacks for coming up with achievements if you think you have none—I guarantee you actually do!
Resume Accomplishments for Different Professions
Administrative Jobs
Administrative Assistant
Managed busy schedules and travel plans of 3+ corporate executives while performing general office administration duties.
Saved $3,000 a year in office supplies after negotiating a new deal with the current supplier.
Commended for creating the in-house newsletter to communicate management's vision. Reduced email back-and-forth by 20%.
See more examples: Administrative Assistant Resume Writing Guide
Receptionist
Managed training and travel schedules and budgets for an organization with 300+ employees.
Implemented a new CRM with reporting capabilities. Cut costs by 30% and improved efficiency.
See more examples: Receptionist Resume Writing Guide
Office Manager
Oversaw eight office assistants in a high-volume tech business. Led the team to growing new contracts by 22% per year.
Built all daily work schedules. Grew the team through direct performance feedback and annual appraisals.
Decreased clerical errors 55% by sourcing new data entry automation software.
See more examples: Office Manager Resume Writing Guide
Sales and Customer Service
Sales Representative
Developed relationships with 110 new clients and typically exceeded sales goals by 20%.
Maintained 99% accurate product knowledge in a high-volume retail store.
Closed average 5 sales per day in outbound telemarketing.
See more examples: Sales Representative Resume Writing Guide
Customer Service Officer
Maintained customer retention rate 45% above company average.
Boosted new customer NPS scores by 10%.
Placed and canceled an average of 200+ orders from customers, distributors, and agents a week.
See more examples: CSR Resume Writing Guide
Cashier
Achieved Employee of the Month 3x through efficiency and accuracy, with 2nd highest sales rate for store rewards cards.
Successfully trained and coached 3 junior staff members.
Achieved 20% higher accuracy rates than all other cashiers store-wide.
See more examples: Cashier Resume Writing Guide
IT and Programming
Software Engineer
Increased code-efficiency of XYZ Corp customer portal by 55%.
Reduced security breaches by 73% for all customers companywide.
Built security into new product features to achieve 100% compliance with industry best practices.
See more examples: Software Engineer Resume Writing Guide
Web Developer
Increased user experience scores by 55%for XYZ, Inc.
Prototyped an average of 25 new product features per year.
Drove best practice implementation for 22 employees across multiple departments. Decreased rework by 23% and costs by 15%.
See more examples: Web Developer Resume Writing Guide
UX/UI Designer
Completed all projects within deadlines, securing at least 90% client satisfaction scores.
Created a mobile note-taking app that got 8000+ downloads.
Deployed new features with 10% higher performance than historical avg.
See more examples:UX Designer/UI Developer Resume Writing Guide
Students and Recent Graduates
Entry-Level Candidate
2x Dean's List 2017–2019
Chief Editor of the University Blog from 2016 to 2018.
My article in the school paper on mobile computing was linked to by Techdirt.
See more examples: Entry-Level Resume Writing Guide
Internship Candidate
Completed two study abroad experiences and a semester-long research internship with XYZ Corp.
1st Place, 2017 Innovation Award: awarded $10,000 for the best senior project (out of 400+ projects) by faculty vote.
Completed a two-month internship with Adobe. Commanded by the internship supervisor for resourcefulness and attention to detail.
See more examples: Internship Resume Writing Guide
Education and Teaching
Teacher
Increased standardized test scores in Math (30%) and Science (24%) by implementing creative coursework into the curriculum.
Received Teacher of the Year Award in 2010 after demonstrating strong skills in teacher/parent communication.
Developed AP Chemistry curriculum and helped 43 out of 50 AP students receive 3 or a better score on the AP Chemistry exam.
See more examples: Teacher Resume Writing Guide
Tutor
Maintained 95% positive feedback from clients, and raised grades by one letter grade for most.
Raised SAT scores 40% on average for SAT retest clients.
Tutored three different students for the SATs. All final scores were higher than 1500.
See more examples: Tutor Resume Writing Guide
Research Assistant
Identified cell changes under microscope, determining cell counts on hemocytometers and coulter counters with 98% accuracy.
My article, "Methods in Plant Molecular Biology and Biotechnology," was published by Chronicle.com.
Delivered on-campus presentation on the impact of sex, conflict, and pathogens on modern genomes during the Annual Molecular Biology Conference.
See more examples: Research Assistant Resume Writing Guide
Academic Professor
Supervised 22 BA theses, 9 MA theses, and 2 PhD dissertations.
Published over 30 articles in peer-reviewed journals.
Member of the Postgraduate Studies Board from 2014 to 2017.
See more examples: Academic CV Writing Guide
Healthcare
Nurse
Implemented initiatives to reduce incorrect medication administration by 78%.
Functioned as a mentor and resource to incoming nursing staff, students and LPN/PCA staff.
Recognized for providing top-class total patient care in an L&D unit with about 4,000 deliveries yearly.
See more examples: Nurse Resume Writing Guide
Medical Assistant
Received 95% positive reviews in post-visit patient surveys.
Conducted proper and concise EHR documentation for all visits. Maintained 22% less errors than average.
Managed inventory and supplies. Sourced a better vendor and saved 15%.
See more examples: Medical Assistant Resume Writing Guide
Dental Assistant
Given three commendations for efficient 4-handed dentistry from Dr. Hampton.
Decreased setup time for dental procedure preparation by 50%.
See more examples: Dental Assistant Resume Writing Guide
Finance, Business, & Human Resources
Financial Analyst
Saved HUDA Inc. $2.7 million by identifying low-margin projects.'
Used MS Access to identify and improve on low-performing portfolios. Increased average client revenue by 19%.
Maintained standard costs within 1% deviation year over year. This saved the jobs of five employees who had been marked for downsizing.
See more examples: Financial Analyst Resume Writing Guide
Business Analyst
Implemented a customer service process that reduced refund requests by 32% and direct labor costs by $2.5 million.
Completed in-depth analyses for business optimization projects boosting revenue by 11.8%.
See more examples: Business Analyst Resume Writing Guide
HR Specialist
Cut lead time for recruiting by approximetely 50%.
Raised employee effectiveness by 18%, and training participation by 15%.
See more examples: Human Resources Resume Writing Guide
Banker
Worked on and closed 20+ sell- and buy-side M&A deals each worth about $1B.
Assisted and supported a deal team on a successful $3.5B acquisition of a public company by a large private equity firm.
Generated over $50K revenue by targeting high net worth clients.
See more examples:Investment Banker Resume Writing Guideor Personal Banker Resume Writing Guide
Management
Project Manager
Managed the highly successful Lean Training project for three years. Improved quality by 32%, cut lead times 21%, cut costs 48%.
Created our popular supply room relocation project. Cut wasted foot traffic by 88% across all nursing staff.
Wrote an article on advanced organizational scheduling techniques for "Northeast PMP Weekly" magazine. Article was linked to by "Forbes" magazine.
See more examples: PM Resume Writing Guide
Team Manager
Implemented employee engagement program to slash food costs 15% and cut turnover by 25%.
Boosted my department's internal NPS scores by 25% in 6 months.
See more examples: Managerial Resume Writing Guide
Executive
Handled full sales cycle. Grew business by 77% through creative strategies.
Effectively managed team of over 270 employees in 12 locations in 3 countries.
Spearheaded communication with client to understand pain points. Increased customer retention 35%.
See more examples: Executive Resume Writing Guide
Marketing and Advertising
Marketing Specialist
Enhanced the open rate for customer online campaigns by 28%.
Increased landing page conversion rates by 22%.
Grew a marketing blog from zero to 25,000 visits/month in eight months.
Increased Facebook conversion rate by 35% with new copywriting strategy.
Led 7 cross-functional product teams to 25% efficiency improvement and $1.2M cost savings.
See more examples: Marketing Resume Writing Guide
Graphic Designer
Developed 200+ graphic design projects (logos, brochures, advertisements, infographics) for 7 clients in a year.
Contributed to a customer site that won a 2016 Shopify Ecommerce Design Award.
Won the 2016 Leibowitz Branding & Design Award.
See more examples: Graphic Designer Resume Writing Guide
PR Specialist
Managed multiple PR and marketing annual budgets ranging from $5,000 to $300,000.
Lead a project team in designing and implementing a comprehensive social media relations strategy for a new line of lifestyle products—grew Facebook fan base from 0 to 19,000 in 4 months.
See more examples: PR Resume Writing Guide
Engineering
Mechanical Engineer
Planned, designed, and developed tools, engines, and mechanical equipment—achieved an 18% uplift in efficiency.
Increased workflows by 10% in year one.
See more examples: Mechanical Engineering Resume Writing Guide
Electrical Engineer
Upgraded XYZ's old test system to a new system running on C++, cutting average testing time by 58%.
Redesigned machine arrangements for improved efficiency. Increased production efficiency by 35% over previous arrangement.
See more examples: Electrical Engineering Resume Writing Guide
Civil Engineer
Completed 8 $3 million+ projects within budget and specs.
Found three design flaws in ongoing projects, preventing catastrophic failure.
Headed local playground design and project management for $60,000 project.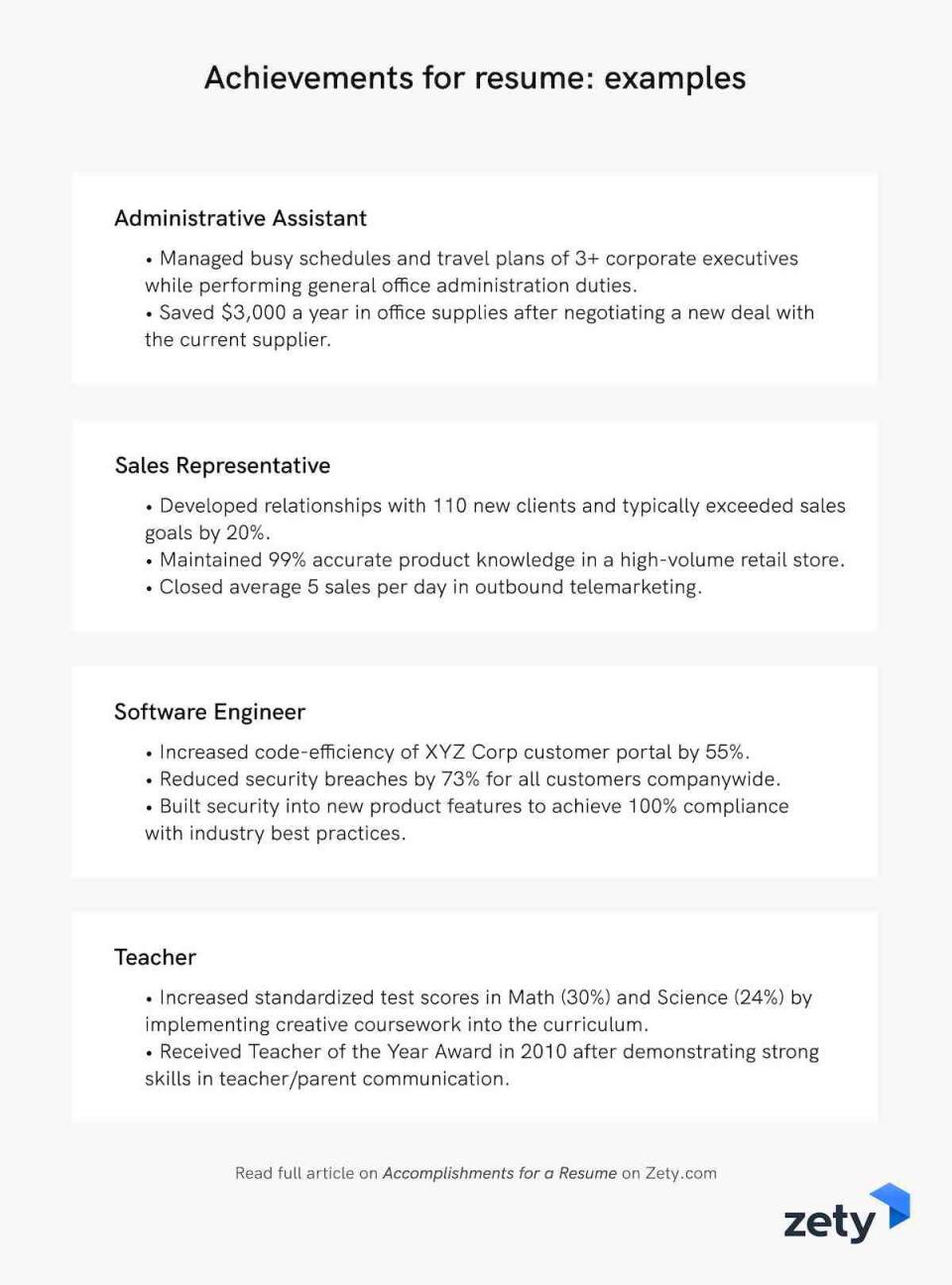 See more examples: Civil Engineering Resume Writing Guide
When making a resume in our builder, drag & drop bullet points, skills, and auto-fill the boring stuff. Spell check? Check. Start building a professional resume template here for free.
When you're done, Zety's resume builder will score your resume and our resume checker will tell you exactly how to make it better.
2. How and Where to List Accomplishments on a Resume
According to a Talentnow study, almost 73% of employers struggle to find relevant candidates for the positions they're trying to fill.
That means, to outperform other candidates, your resume needs to show you'll do well in this particular job.
The best way to do it?
Highlight your past professional achievements and communicate that you'll be able to translate them into similar success in your future position.
You want the hiring manager to read your resume and say:
"Right, so this candidate succeeded with a project X. It's similar to the project Y at my company—I'm sure she'll have the skill to do well. Let's interview this one!"
1. Include Your Achievements in the Work Experience Section
The work experience section of your resume is the most important part.
Employers read resumes pretty much for the sole purpose of reviewing your work history.
That's why you need to pack this part full of standout achievements. Here's how:
In every entry in your work experience section, use up to 6 bullet points. Focus only on what's relevant for the position.
Begin every bullet with an action verb. Instead of writing you were "responsible for the design of a new payment system," say "designed a new payment system." This way, you'll come across as an achiever not just a doer.
To make every sentence count, focus on the business outcome of your actions.
Quantify your achievements whenever possible. Numbers pop!
At the bottom of each work experience entry, add a section entitled "Key Achievement." Describe the proudest, most impressive professional win.
To make sure your best accomplishments grab recruiters' attention, use the PAR (Problem-Action-Result) formula.
Let's say there's a job for a Software Engineer and one of the key requirements is proficiency in testing automation.
A resume achievement example relevant to the position could read:
Key achievement: Optimized the testing process by developing an AI-based test automation tool; reduced testing time by 55%.
Problem? Testing took too long.
Action? New test automation tool.
Result? Testing time cut by 55%.
You can use this method to make every responsibility on your resume sound like an accomplishment.
2. Quantify Your Results by Frequency, Scale, or Range
I know what you might be thinking.
"Putting quantified achievements on a resume is great, but I just don't work with hard numbers. I have no data to support the quality of my work."
Don't worry! There are a few proven methods to plug in numbers to your resume accomplishments.
1. Frequency
How many times a week/month were you able to do certain tasks?
How much work were you able to complete within a given period of time?
How long and how complicated were the projects you've completed?
Your resume should answer all such questions!
See these examples of achievements based on frequency:
Resolved 50+ user tickets daily.
Designed social media posts: 3 per week on LinkedIn, 3 per week on Facebook, 6 per week on Instagram. Reached 30,000 customers/week with a monthly social media budget of $300.
Coordinated an internal newsletter sent every day to 60+ coworkers.
2. Scale
How many people were there on your team?
How big were the budgets you've handled?
How many countries/regions was the company active in?
Again, look at how it works in practice in these scale-informed accomplishments:
Collaborated with cross-functional project teams of 24 colleagues from sales and operations departments to provide tailor-made customer experience to the clients.
Trained and mentored 8 associate-level employees to reach a specialist position.
Spearheaded the branding consistency across 8 national markets.
3. Range
If you can't figure out the exact numbers, it's okay to estimate, as long as the range you enter is well-informed (because you will be asked about the reasoning behind your estimate during a job interview.)
Example:
Negotiated with office supplies vendors, saving the company $12,000–$17,000 annually.
So—
You've learned how to put achievements in the work experience section and how to quantify them to make a big impression. But there's still a bit more you need to know…
3. Make Your Best Accomplishments Prominent in the Resume Profile
A resume profile, also called a resume heading statement, is that short paragraph at the very top of your resume, just below your contact information.
It's the very first thing your future employers will put their eyes on. It has to work like a trailer for the rest of your resume.
Grab their attention, and they will read on. Fail to make a good first impression—you're not getting the job.
It's best to write your resume profile after you've written the rest of your resume.
Once you're done with your work history, re-read all the entries and identify your resume strengths.
By "best" I mean 1) the most impressive and 2) only those that match the requirements of the job you're applying for.
Make sure to include all those glowing accomplishments in your resume profile.
See this example for reference:
Skilled customer service representative with 6+ years of experience. Received 98% favorable customer ratings at Second Level Industries. Customer retention for regular callers was 41% above the company average. Seeking to use proven service and sales skills to grow customer loyalty for Verizon.
For more information on how to pick the best achievements for your resume profile, see our dedicated guides.
If you have lots of relevant experience, the heading statement of your resume will be a summary. Find out more about writing one here:Professional Summaries for a Resume (Examples)
Not much experience? You'll need a career objective. We have a dedicated guide loaded with examples here: 99+ Career Objectives for All Jobs
If you're a very experienced candidate with many relevant accomplishments, you might consider writing an extensive summary of qualifications—a heading statement used in "combination" resumes.
Find out how to write one: Combination Resume: Template, Sample, & a How-to Guide
So, you've learned all you need to know about including accomplishments in the work history section and your resume heading statement.
What about a separate section for awards?
3. How to List Awards on a Resume
Amongst your achievements, professional awards hold a special place.
An award indicates that you're mastery has been recognized by others. Metrics, professional results, and KPIs are great for measuring performance, but still—
Awards are the most prestigious achievements to include in a resume.
Here's how to list them:
1. Include your awards won while working in a given position in your job description.
An award always warrants a mention in a given work history entry.
It's best to put it in a "Key achievements" or "Most relevant accomplishments" subsection.
See this example.
Awards on a Resume: Work History Section
[Position Name]
[Company]
[Dates worked]
Devised and implemented a comprehensive campaign combining sampling, media events, social media, and viral marketing.
Helped secure a three-year exclusive deal with a key client.
[…]
Key achievement: Engaged customers in a viral video campaign based on homemade videos featuring the brand. Received an SCM Campaign of the Year award in 2013.
But—
To make the awards more prominent on your resume, go the extra mile:
2. Put your awards in a separate "Awards" resume section
List all your relevant industry awards.
Use the reverse-chronological order: the most recent awards go first, followed by previous ones.
Include only the name of the award and the year you got it.
List international, national, and internal company awards.
Have a look:
Awards Section on a Resume: Sample
AWARDS
2018, Bronze Clio Digital/Mobile & Social Media Technique Award
2013, Smith & Company Marketing Campaign of the Year
2008, JonesFlores Innovation Accomplishment Award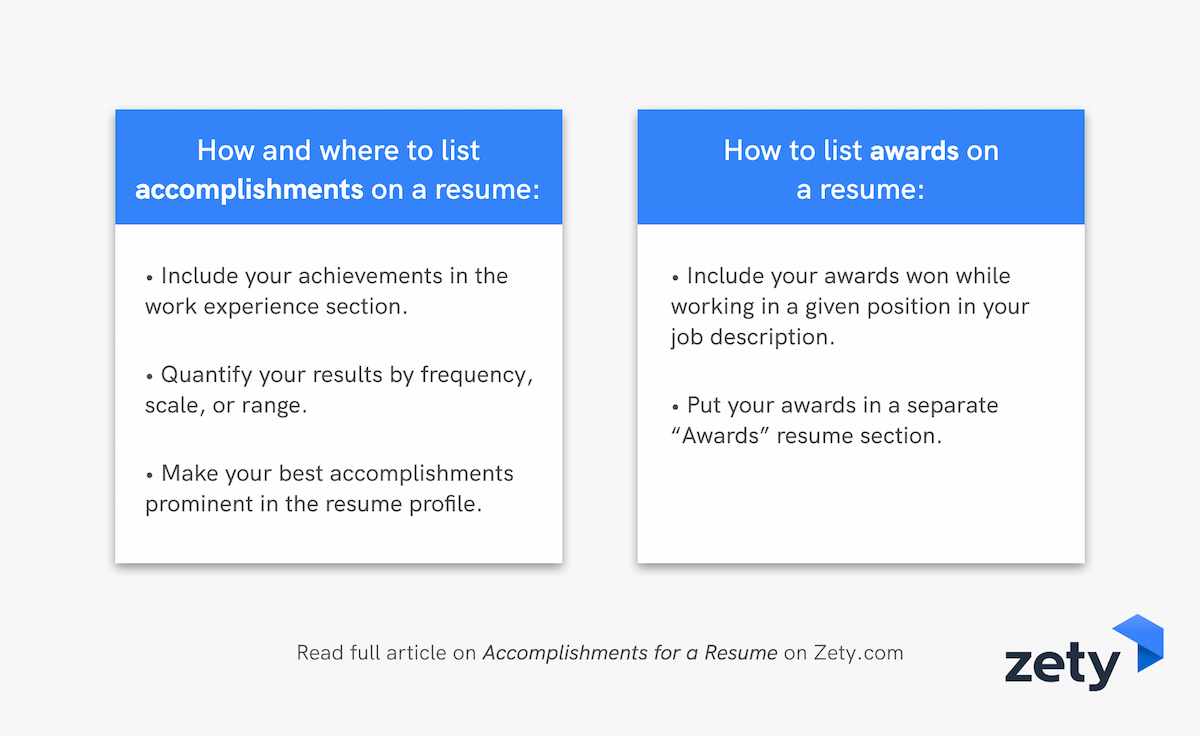 And there you have it. Everything you need to know about how to put achievements, accomplishments, and professional awards on a resume.
Let's wrap up.
Plus, a great cover letter that matches your resume will give you an advantage over other candidates. You can write it in our cover letter builder here. Here's what it may look like:
See more cover letter templates and start writing.
Key Takeaway
Here's how to highlight your achievements on a resume:
Include your achievements in the work experience section, where you describe past jobs.
Quantify your best results whenever possible.
Include a sneak-peek of your best accomplishments in your resume summary statement or a career objective.
Make a separate section for your awards only. List them in the reverse-chronological order.
Thanks for reading my article! Now I'd love to hear from you. Do you have any questions about how to include achievements on a resume? Still find it hard to describe your accomplishments? Drop me a line in the comments, I'll be happy to help.
Frequently Asked Questions about Accomplishments for a Resume
What are some examples of accomplishments for a resume?
Depending on where you are in your career, your list of accomplishments may include grants or scholarships, a high GPA, publications, awards, patents, training, licenses and certifications, media coverage, knowledge of foreign languages, etc. A resume with no experience will focus on academic achievements primarily, while that of a seasoned professional will feature accomplishments related to work experience.
Should I put achievements and awards on a resume?
It's important to use your best judgment when choosing what to put on your resume. Just like hobbies and interests on a resume, achievements and awards are optional. However, if they emphasize your relevant experience and increase your professional value, it makes perfect sense to include them. Achievements and awards may also be an impressive addition to your resume for a career change.
Where should I put achievements and awards on a resume?
Place them as additional resume sections right after the main ones. A typical resume order looks like this:
You can find out more about resume structure on our blog.
How do you write a good accomplishment statement on a resume?
Remember: listing accomplishments on your resume is about showcasing your value to the future employer. Consider the following:
Identify your most outstanding achievements.
Think of the strengths you'd like to highlight on your resume.
Go back to the job description and look for resume keywords—specific things the recruiters will expect from the perfect candidate.
Match the three in a powerful statement/list.
In general, tailoring your resume to the job description is a foolproof technique if you're looking for ideas on how to improve your resume.
How do I turn job duties into accomplishments?
Describing your current duties may easily be turned into achievements if you add numerical value. Being a detail-oriented data analyst becomes an accomplishment if, say, meticulous data analysis brought a 30% increase in sales. Working as a medical receptionist and having great customer service skills makes a difference if it results in 95% client satisfaction, etc. Add measurable results, and it will make all the difference to your resume.
What if I don't have any accomplishments for my resume (for applicants with no experience)?
If you're writing an entry-level resume, you have to concentrate on your academic successes and extracurricular activities. Examples would include making the Dean's list or graduating with honors (you can also mention such achievements in the Education section of your college student resume or college graduate resume). You can also describe volunteering experience or prominent publications.