What to Put for Additional Information on a Resume +Examples
I'm glad you got here if you thought "additional information on a resume" means it's optional. See how it translates to "mandatory under threat of not landing a job."
Are you a fan of the Shadow and Bone series?
I really hope so, because it's time you began to see the light.
Additional doesn't mean optional. Additional means supplementary.
So when you look at your resume and see employment, education, and skills there thinking you're ready, you're wrong.
Find out what additional information to put on your resume and why it puts you in front of your competition.
This guide will show you:
Examples of additional information to put on a resume that impresses recruiters.
Where additional information works best and whether you should always create a separate section.
How to include additional information in a resume to make the best out of it.
Want to save time and have your resume ready in 5 minutes? Try our resume builder. It's fast and easy to use. Plus, you'll get ready-made content to add with one click. See 20+ resume templates and create your resume here.
Sample resume made with our builder—See more resume examples here.
Grab a list of our other articles about how to write various sections on the resume:
Get quicker to the sections of the guide with this list of contents:
Without further ado, let's dive in!
Examples of Additional Information on a Resume
This you can put as additional information on your resume:
Certifications and Licenses
So you earned a license or certificate to follow a profession, and you're thinking about whether it's a good idea to include it on your resume?
Stop thinking, start including!
Some employers require one to even consider you for employment, so don't hesitate.
But—
Unless it's relevant to your application, then leave this information be. Or, if the certificate was earned at the end of your schooling or a training course, think twice about whether it'll bring any value to your application. If not, then again, drop it.
Check out the below examples to see how to put certificates and licenses as additional information on your resume:
Additional Information to Put on a Resume—Certifications and Licenses Section
Certificates & Licenses
2022, CompTIA Security+
2019, Professional Engineer (PE) License issued by DPOR, Richmond, VA
You can, but don't have to, keep these two separate. It's crystal-clear which is which if you indicate the license.
You should also note that every entry on your resume in additional information should be in reverse-chronological order. It means you put the most recent, here a certificate or license, at the top of your list.
Let's move on to the awards.
Awards
Ah, who doesn't want to be commended by their boss or acknowledged and applauded by the entire industry?
E-very-one.
"That's an achievement with a capital A!"
Awards as additional information play great importance to your potential employer. Through it, they see a hard worker committed to success and, what's the most important, bringing results.
Accolades bring glory as much to the employee as to the entire company. So if the award is relevant to the job you're pursuing, go ahead: make it part of your application.
Let's see how to add awards as additional information to your resume. There are two ways to do it:
Additional Information Section on a Resume—Awards Section
Awards
2021, Employee of the Month, for overachieving targets consecutively for 3 months and creating a new quality benchmark.
April 2021, Manager of the Year, for recruiting and leading a team of 4 interns with a track record successful enough to be promoted to standard positions.
Additional Information on a Resume Example—Employment Section With Awards
Experience
Project Manager
Projectopia, Louisville, KY
September 2020—February 2022
Recruited and led a team of 4 interns for the Young Wolves program.
Closed a multimillion project on time and within budget with a Forbes 500 company.
Awarded the Manager of the Year for recruiting and leading a team of 4 interns with a track record successful enough to be promoted to standard positions.
You see, there is no need to create a separate section for awards.
But—
It doesn't mean you can't do it. I'd even recommend that because it'll make the awards stand out, and recruiters won't have any problem finding them amongst your other achievements.
Publications
Just like awards, publications are a fantastic achievement, especially when you appear in industry magazines or journals. This is exactly how you show you're a subject-matter expert and know what's what. If you're a candidate for a creative opportunity, publications can give away your writing skills.
Don't hesitate to include a link if you're sending an electronic copy of your resume. For an on-page version, stick to bibliographical descriptions.
This is how to list publications for additional information on a resume:
Additional Information On a Resume Sample—Publications Section
Publications
Lowe, Tiffany R. "Marketing 3.1." Marketing Theory 89 (2021): 15-69.
"SEO: The Odd One Out," Marketist Oct 2020
Volunteering
An opportunity for Gen Z to prove that their experience gap exists only on paper.
There's definitely no obligation to explain your entire employment history on a resume. Still, you may win your recruiter over if you say you did charity or voluntary work in between getting a salary or studying. This is your chance to not only prove you've been building your skills for the entire time outside school and work but also that you take helping others seriously.
If you're trying to put volunteering on a resume as a full-time gig, list it with others in the experience section. If it wasn't full-time, include your unpaid experiences in a separate resume section under "Volunteering."
Let's glance at the below additional information on a resume example:
What to Put in Additional Information on a Resume—Volunteering Section
Volunteering
Helped with a fundraising event for the local community homeless shelter to gather funds for building renovation.
Volunteered as food prep at a local food bank.
Organized two renovation projects for the Red Cross chapter.
Foreign Languages
There are jobs such as a customer rep in a call center that require excellent communication skills. What they also may require is the ability to speak at least several foreign languages. Sometimes, you can even get some fancy benefits if you speak more than one!
Look at how to put foreign languages as additional information on your resume:
What to Add in Additional Information on a Resume—Languages Section
Languages
French—Fluent
Italian—Advanced
Swedish—Intermediate
As you've noticed, the beginner level didn't get a chance to land in this example. This is because it's only taking up space instead of providing an actual qualification.
Hobbies & Interests
I'm not talking about counting cars on a parking lot.
Your personal interests should be relevant to the job description and the job you're pursuing in general. It means that for an analytical job, playing chess would do a world of good on your resume, as well as playing sports would for a physical type of job.
Why?
It'll be just as important as stating logical thinking and stamina in your skills and attributes section.
Lets's see how you can present hobbies and interests as relevant additional information. First, take a look at the following job description example—imagine it comes from the job ad you're interested in:
Responsibilities:
Prepare communications, such as memos, emails, invoices, reports, and other correspondence.
Write and edit documents from letters to reports and instructional documents.
Now, here's how to prove you're great at both through carefully picked hobbies & interests:
What to Put on Additional Information on a Resume—Hobbies & Interests Section
Hobbies & Interests
Creating digital newsletters from scratch for my personal blog.
Working with WordPress to write and edit posts.
What do you say? Still thinking whether that time-killing game on parking lots should make it to your resume?
How to Include Additional Information on Resumes?
So now that you know what to put on your resume as additional information, let's dig deeper into how you should actually think about it before you get down to writing.
Consider the relevancy
Not every certificate, license, or training will play to your assets.
Why? Because relevancy is the key to it all.
If you decide to include something on your resume, make sure it responds to the requirements and desired skills. You can access that information in the job description. Cross-check, and only then make a decision.
Be explicit about your additional activities
The thing about relevancy is that it's relative, and in your resume, everything has to be crystal clear. So whatever you're including as a hobby, interest, or an award—describe it, write more than only one or two words. Give the context so that the employer and you are on the same page.
Add to your limited experience
If there isn't much you can add to your experience, additional information sections such as volunteering, internships, or continuing education are great examples.
When you apply for non-experience or junior roles, employers look into your personal attributes and qualities rather than qualifications. Professional experience is a cherry on top, but a cream cake tastes delicious without it too.
If you already have industry certifications that you earned while at the university or just by personal development, do not be afraid to include that in your resume. There's nothing better than motivation and dedication demonstrated by a younger candidate.
Highlight your added value
You've got to claim some real estate on the pile. And additional sections, such as conferences, publications, or awards, will do that for you. It's like buying a house instead of a one-bedroom apartment.
I know you feel better just by the sound of it!
The recruiter will feel better knowing that the employee they invited for an interview is such a great investment.
When making a resume in our builder, drag & drop bullet points, skills, and auto-fill the boring stuff. Spell check? Check. Start building a professional resume template here for free.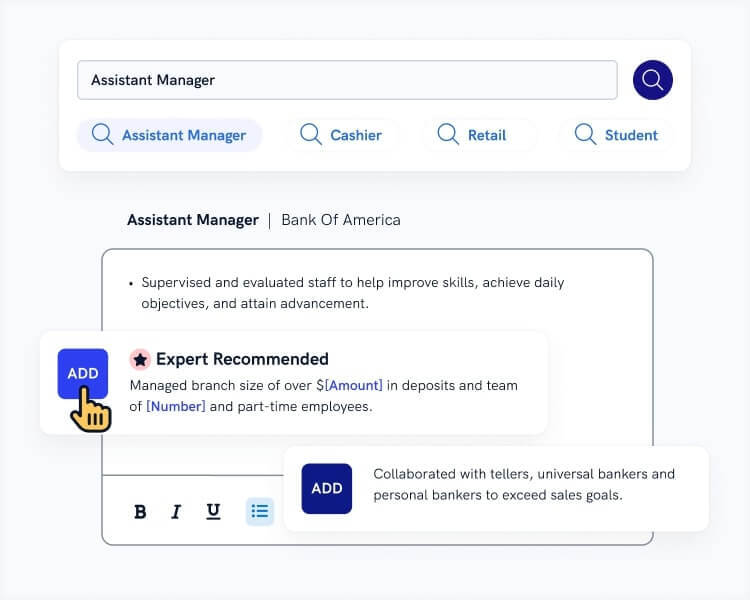 When you're done, Zety's resume builder will score your resume and our resume checker will tell you exactly how to make it better.
Key Takeaway
Here's the essence of the article:
Additional information on your resume gets you at the front of the job race. Don't hesitate to include your certificates or awards because you're shy. It's not the time to be scared.
You can get many additional sections in your resume: awards, licenses, publications, or even hobbies and interests. Mind they all need to be relevant to the job you're applying to.
Additional information sections are jackpots in the resumes of inexperienced candidates. One, they fill in the whitespace. Two, they are another way of saying you have the fire in your belly.
It's always better to say more than not enough. Give your additional information context so that the employer knows how much value you'll bring to the company.
Please tell us—
Do you have questions about additional information on a resume? Is there anything else you've ever felt like including in the additional information section? What do you think of such information put in your resume?
Give us a shout in the comments! Let's get the conversation rolling.