300+ Resume Words (Action Verbs & Power Words)
Got stuck repeating words like "managed" and "responsible for" over and over? Try various power words for a change and use the right action verbs for resumes.
If only there was a way to make my resume sound better…
Guess what—there is a way, and it's an easy one. You simply need to replace boring phrases and cliché words in your application with strong resume words. You know, like action verbs and resume power words. And you don't have to search for them anywhere, because you'll find them in this article, faster than you'll say abracadabra.
You'll see:
300+ action verbs for a resume grouped by keyword synonym.
Easy-to-use lists of resume power words, organized to save you time.
Separate lists of resume adjectives to make your work stand out.
Want to save time and have your resume ready in 5 minutes? Try our resume builder. It's fast and easy to use. Plus, you'll get ready-made content to add with one click. See 20+ resume templates and create your resume here.
Sample resume made with our builder—See more resume examples here.
Want to improve your resume ASAP? Check these guides:
What Are Action Verbs?
Action verbs (or power words) are words you can use on your resume to describe your work activities and professional duties. These words have positive connotations and can highlight your initiative and strengths. You should use them to replace passive-sounding words such as "responsible for."
See, the thing is, people tend to minimize their own achievements. Maybe you do that, too. Instead of being proud of your successes, you say: "Oh, anyone could do that." But in a resume, minimizing your accomplishments is a bad thing.
Using weak words may make recruiters think: "But why should we hire you?" And that's why you should replace all these phrases that downplay your role with resume power words. No more "assisted," "was in charge of," or "worked with." Instead, say: "initiated," "coordinated," or "collaborated."
Action Verbs for Your Resume
Hey, hey—put down that Oxford Dictionary. You don't have to frantically browse through thousands of words to find the right ones. We've done that for you. You can find lists of strong resume words below:
Best Resume Action Verbs
Just click one of those categories above and jump to the list you need.
One more thing—remember that you should use past tenses in a resume when describing your work activities from previous jobs. You can use the present form of resume action verbs to talk about the job you have at the moment.
20 Best Resume Action Verbs for Team Players
You don't have to write "worked with 4 other team members on a project" over and over when presenting your work experience in your resume. Instead, use one of these resume action verbs to highlight your teamwork skills. How about "Partnered with team members" or "Contributed to a team project" instead?
Here's a selection of resume words you can use to describe teamwork activities and collaboration skills:
| | | | |
| --- | --- | --- | --- |
| Acknowledged | Assimilated | Blended | Coalesced |
| Collaborated | Contributed | Diversified | Embraced |
| Encouraged | Energized | Gathered | Harmonized |
| Ignited | Joined | Melded | Merged |
| Participated | Partnered | United | Volunteered |
When creating your job application, try to mirror the words from the job ad to make a tailored resume. Learn more: How to Tailor Your Resume to a Specific Job
20 Best Leadership Power Words for Resumes
Did you just use the word "led" for the fifth time in your job application? Replace it with "chaired team meetings." Isn't that better? It's a small change but makes all the difference.
Use the following resume power words to highlight your leadership skills:
| | | | |
| --- | --- | --- | --- |
| Authorized | Chaired | Cultivated | Delegated |
| Directed | Enabled | Executed | Facilitated |
| Fostered | Guided | Headed | Hosted |
| Inspired | Mentored | Mobilized | Operated |
| Orchestrated | Oversaw | Spear­headed | Trained |
Resume action verbs are great for describing achievements on a resume. See more: Examples of Accomplishments for a Resume
Resume Action Verbs to Use Instead of Responsible For
If you want to describe your work history by saying, "I was responsible for carrying out various duties," just stop. Instead, be specific and use good resume words to showcase your accomplishments.
Here's a bunch of resume action verbs you can use to describe your duties:
| | | | |
| --- | --- | --- | --- |
| Accomplished | Acquired | Achieved | Acted As |
| Completed | Created | Executed | Finished |
| Forged | Made | Navigated | Negotiated |
| Operated | Partnered | Performed | Prepared |
| Produced | Secured | Succeeded In | Undertook |
Best Communication Power Words
Communication skills are all the rage today. But if you type "Communicated with XYZ departments" again and again, the word becomes empty. Instead, try power words. For example, say: "Consulted subject-matter experts to clarify the key aspects of the project" or "Informed project stakeholders about updates and milestones."
The following resume action words are great for describing communication at work:
| | | | |
| --- | --- | --- | --- |
| Advocated | Authored | Clarified | Composed |
| Consulted | Conveyed | Convinced | Corresponded |
| Defined | Explained | Fielded | Illustrated |
| Influenced | Informed | Mediated | Moderated |
| Negotiated | Promoted | Persuaded | Publicized |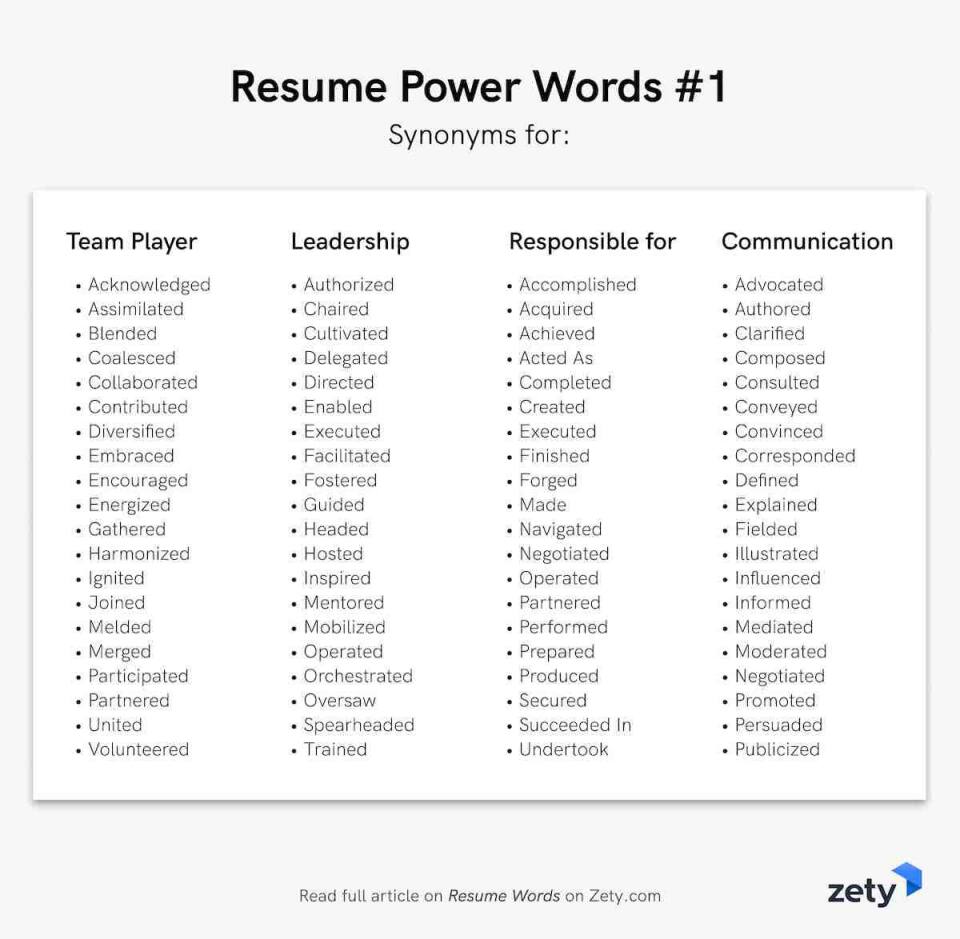 Achiever Action Words
If you're one of those high achievers that headhunters seek, your resume might be filled to the brim with the word "achieved." Try using other words to replace it—they'll also carry more concrete meaning, thus making your work profile more attractive.
See these resume words that can replace the verb "achieve":
| | | | |
| --- | --- | --- | --- |
| Accelerated | Accomplished | Advanced | Amplified |
| Boosted | Completed | Created | Delivered |
| Enacted | Enhanced | Expanded | Expedited |
| Generated | Improved | Lifted | Managed |
| Maximized | Outpaced | Produced | Stimulated |
Worked On Action Verbs for a Resume
"At my previous company, I worked on multiple projects." Boooriiing. How about being more specific? Replacing words devoid of meaning with resume action verbs that are more specific not only sounds better but also helps save space on the document—and that's the key to making a one-page resume.
These resume power words can replace the verb "work on":
| | | | |
| --- | --- | --- | --- |
| Arranged | Compiled | Composed | Constructed |
| Created | Developed | Engaged In | Fashioned |
| Forged | Formulated | Made | Made Progress On |
| Operated | Organized | Perfected | Prepared |
| Pursued | Put Together | Set Up | Undertook |
When making a resume in our builder, drag & drop bullet points, skills, and auto-fill the boring stuff. Spell check? Check. Start building a professional resume template here for free.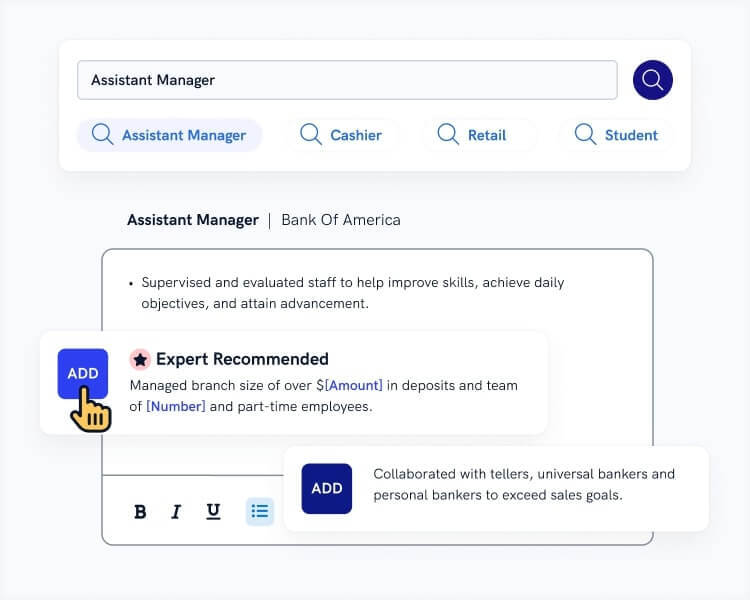 When you're done, our easy resume builder will score your resume and our resume checker will tell you exactly how to make it better.
20 Resume Power Words for Improved
If improving things is your specialty, you might end up repeating this word over and over. Try using other resume verbs to replace it. For example, if you're writing a resume for a UX designer, you can change "improved the app interface" to "redesigned the app interface."
These action verbs for a resume can be used to replace the word "improve":
| | | | |
| --- | --- | --- | --- |
| Boosted | Converted | Customized | Grew |
| Integrated | Lifted | Merged | Overhauled |
| Raised | Redesigned | Refined | Remodeled |
| Reorganized | Restructured | Revamped | Saved |
| Slashed | Streamlined | Strengthened | Updated |
20 Best Resume Action Verbs for Researched
A scientist's resume might turn out swarmed with the word "researched." But there are other strong resume words you can use to show your analytical skills.
Here's a collection of resume action words to replace the verb "to research":
| | | | |
| --- | --- | --- | --- |
| Analyzed | Assessed | Audited | Calculated |
| Checked | Discovered | Examined | Explored |
| Identified | Inspected | Investigated | Mapped |
| Measured | Probed | Proved | Quantified |
| Studied | Surveyed | Tested | Tracked |

Good Resume Words to Describe Creativity and Problem-Solving
Maybe you're an artist, a designer, an engineer, or a natural innovator. You create something all the time. But repeating this word makes it meaningless. Instead, you could try saying, "Drafted a mock design for a smartphone app," "Built a prototype of an engine," or "Designed a collection of 10 garments". It's better, trust me.
Try these resume power words to highlight your creative skills and problem-solving activities:
| | | | |
| --- | --- | --- | --- |
| Altered | Built | Corrected | Crafted |
| Designed | Determined | Devised | Drafted |
| Enhanced | Established | Fashioned | Fixed |
| Initiated | Invented | Overhauled | Patched |
| Piloted | Pioneered | Rebuilt | Resolved |
Words to Use in a Resume Instead of Managed
Managers manage, and haters gonna hate. Don't want a hiring manager reading your application to become one of those haters? Then replace the word "managed" with other good resume words that can help highlight management skills.
Try to change the word "manage" to one of these resume action verbs:
| | | | |
| --- | --- | --- | --- |
| Aligned | Cultivated | Directed | Enabled |
| Facilitated | Fostered | Guided | Hired |
| Inspired | Mentored | Mobilized | Motivated |
| Recruited | Regulated | Shaped | Supervised |
| Taught | Trained | Unified | United |
Assist Resume Action Verbs
Maybe you're writing an assistant resume, and the word "assisted" just sounds natural. But after using it for the 5th time, it just sounds bad. Show what your job duties really involve by using a different resume word.
Here are 10+ resume power words to use instead of "assist":
Abetted

Aided

Advanced

Boosted

Helped

Counseled

Coached

Cooperated

Collaborated

Dispatched

Expedited

Endorsed

Facilitated

Maintained

Promoted

Reinforced

Supported
Words to Use in a Resume Instead of Utilize
At work, you might utilize various resources, methods, teams, approaches… But you could also substitute this word with a different one. For example, you can "apply a new method" instead of utilizing it.
Try changing the word 'utilize' on a resume with the ones below:
Applied

Adopted

Deployed

Employed

Exerted

Handled

Mobilized

Operated

Promoted

Put to Use

Restored

Revived

Specialized in
You can use resume power words to upgrade your LinkedIn profile, too. That's just one of the ways to improve it. Learn more: How to Optimize Your LinkedIn Profile
Resume Adjectives
Verbs aren't the only resume words that are good to know. There are also resume adjectives. You know, like hard-working, creative, or diligent. Unfortunately, it's not easy to come up with too many clever words to describe yourself on a resume. And that's why we've compiled a handy list you can use.
Astute

Attentive

Competent

Cutting Edge

Dedicated

Devoted

Determined

Diligent

Disciplined

Dynamic

Genuine

Honest

Ingenious

Insightful

Intelligent

Knowledgeable

Meticulous

Motivated

Organized

Passionate

Persistent

Professional

Reliable

Self-starter

Skilled

Sincere

Thoughtful

Unique
When can these words become useful? For example, when you need to write a resume summary and add a good personal characteristic to your job title.
Honestly, no matter what you want to put on your resume, there's a good chance that you can improve the information using resume adjectives. For example, in a resume with no work experience, you can describe yourself in a resume objective as a reliable high-school graduate and then show proof of your reliability when describing volunteer work or educational experiences.
Once you upgrade your resume with some of the action verbs from this guide, don't stop. Make sure that other application documents are also of the highest quality. Use the proper cover letter format, and then add some strong resume words to the content for an extra boost.
Plus, a great cover letter that matches your resume will give you an advantage over other candidates. You can write it in our cover letter builder here. Here's what it may look like: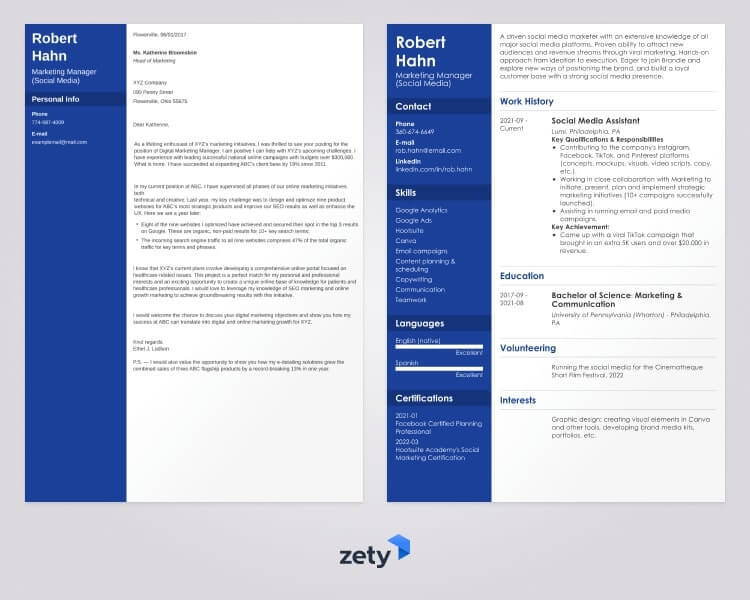 See more cover letter templates and start writing.
Key Takeaways
Here's a recap of resume words and how to use them:
Resume action verbs are words that introduce accomplishments. They describe job duties but leave room for all-important metrics.
Don't ever simply say you're skilled, a go-getter, or hardworking. Back it up with resume power words and concrete figures.
Action verbs for resumes can make your resume more readable. They'll also help you prove your worth and get many more interviews.
Do you have questions about resume action words? Not sure how to use resume power words to get the best effect? Give us a shout in the comments! Let's talk about phrases you love to hate and hate to love!
Frequently Asked Questions about Action Verbs and Resume Words
What are power words in a resume?
Power words are words and phrases that catch the reader's attention. Power words in a resume are used to make the candidate's job application stand out from others. Most powerful resume words are verbs. They can be used to describe actions, duties, and tasks from the candidate's most relevant experience. For example, instead of writing "responsible for running internal projects", the candidate can use a power word and write "coordinated internal projects" and make a better impression on the recruiter. This way, it's easier for applicants to showcase the qualities that employers value.
What are good verbs for a resume?
The best resume verbs are action verbs. They describe activities that involved physical or mental actions and provided a significant result. Good verbs for resumes suggest that the action was successful, which automatically boosts the candidate's qualifications. They are perfect for describing accomplishments and worth researching when you're learning to write a good resume.
Here's a sample action verb list:
Accomplished
Applied
Audited
Clarified
Collaborated
Conducted
Constructed
Coordinated
Created
Customized
Decreased
Delegated
Demonstrated
Developed
Directed
Eliminated
Enhanced
Established
Evaluated
Facilitated
Forecasted
Formulated
Guided
Helped
Illustrated
Implemented
Initiated
Maintained
Managed
Marketed
Motivated
Operated
Performed
Programmed
Projected
Represented
Resolved
Revitalized
Simulated
Supplied
Supported
Trained
Upgraded
Utilized
Visualized
Volunteered
What are good action words for a resume?
Action words in resumes are synonymous with action verbs. These words or phrases are best for describing achievements, work experience, as well as skills in a functional resume. Using resume action verbs helps to catch the recruiter's attention and to stand out from other applicants.
Some examples of good action words for a resume include: administered, advocated, created, completed, demonstrated, designed, enabled, estimated, facilitated, fixed, implemented, investigated, merged, managed, operated, overhauled, tested, transformed, utilized, updated.
You can find different categories of resume action words in this article:
What are resume buzzwords?
Resume buzzwords are verbs, nouns, and adjectives that can help the candidate to stand out from other applicants. They include action verbs for describing work experience, nouns that describe tasks and responsibilities, and personality adjectives that describe the candidate's personal qualities and can be used during job interviews to talk about yourself.
While using buzzwords is encouraged, the candidates must do it right. Many resume buzzwords, such as "team player" or "passionate" are so overused that they became cliché, and can make a resume look bad. When writing a resume, it's best to have a look at lists of useful resume buzzwords, as well as use a thesaurus to find synonyms whenever necessary. You can also easily improve your old resume by editing it and adding a few buzzwords here and there.
Should a resume start with verbs?
It's good practice to start some sentences in a resume with action verbs. While the candidate's personal profile usually starts with a strong personality adjective, job title, or a strong resume headline, the description of work experience should start with action verbs. For example, instead of writing "I was responsible for designing the app user interface", they might say: "Designed the app user interface". It not only saves space. Such descriptions of candidates' duties make a better impression on the recruiter.