20+ Resume Objective Examples: Career Statement for All Jobs
A complete guide to writing a job-winning resume objective. With resume objective examples for all professions and industries!
You've just finished writing your resume, but something seems off. There's work experience, education, skills, and contact details… But nothing to connect the dots. How will the recruiter know why you want this job?
Yep, it means it's time to add a resume objective. A well-written career objective will prove to the recruiter that you're just the candidate they've been waiting for. Even when you're just starting out. And you came to the right place to learn how to write one.
This guide will show you:
The perfect objective statement for a resume that employers want to see.
When to use a resume objective to stand out from other candidates.
How to write an objective for a resume that will land you the interview even if you have no experience.
Examples of perfect career objectives for various professions you can copy, adjust, and use on your resume.
Want to save time and have your resume ready in 5 minutes? Try our resume builder. It's fast and easy to use. Plus, you'll get ready-made content to add with one click. See 20+ resume templates and create your resume here.
Sample resume made with our builder—See more resume examples here.
Looking for guidance on writing a resume for specific careers? Check out our guides.
And even more Professional Resume Examples.
In the next two sections, we'll explain when exactly you should use a resume objective and how to write yours step by step. Everything you need to know about how to start a resume with an objective.
1. What Is an Objective on a Resume & When to Use It
Let's start with the basics:
What Is a Career Objective on a Resume?
A resume objective is a short introduction of you and your career goals. To write a resume objective, mention the job title you want, add 2–3 key skills, and explain what you want to achieve in this job. Write 2–3 sentences. Resume objectives are best for candidates with little work experience.
See these general resume objective examples written for an administrative assistant position:
RIGHT
English graduate with proven communication, travel planning, and email management skills. Seeking a position as an administrative assistant at Acme Inc., to leverage organizational and research skills to support internal and external communication.
This candidate refers to skills she learned through internships, volunteering, and college. And she clearly shows how her qualifications will benefit the employer.
WRONG
Looking for an admin assistant role where I can apply my skills. Not much office experience yet, but I'm a self-starter and I want to make a difference.
This candidate simply said what she wanted out of the job. That won't be enough to impress recruiters. All other candidates are looking for an admin assistant role.
Need to write a mission statement in your application? Check here: 30+ Examples of Personal Mission Statements
When to Use a Resume Objective?
Candidates with little or no professional experience in the industry should use career objectives for a resume. These are:
People who are entering the job market for the first time.
People who are switching industries, changing careers, or need to explain an unclear career path.
If you are in one of these groups and need good resume-writing advice, make sure to see one of our dedicated guides:
Got years of experience under your belt? There are a few other types of resume introductions for candidates with a relevant work history in their industries:
Not in the mood to read all that stuff? Have I got good news for you!
Our builder takes the hassle out of writing your resume: with a single click, you can add pre-written career objectives, customized to fit your job title and level of experience. Start building a professional resume template here for free.
When you're done, Zety's resume builder will score your resume and tell you exactly how to make it better.
2. How to Write a Resume Objective
You're keen on writing your resume objective. The problem is—you have no idea how to start.
Here's a useful trick: before you write your resume objective, write the rest of your resume first.
Then, skim the cream. Pick the most important skills and qualifications you have. They all need to appear in your career objective.
Writing things like "I'm looking for a challenging role where I can expand my skill set," is a relic of the nineties, according to HR experts. Nowadays, you need to use your objective on a resume to show recruiters how your qualifications can translate into their success.
Here's how to write an objective for a resume:
Start with a strong trait, add 2–3 key skills, describe your professional goals, and say what you hope to do for the company.
State the position to which you're applying and use the name of the company.
Keep it short: 2–3 sentences or 30–50 words is the sweet spot.
Avoid first-person pronouns.
Use resume action verbs to add impact.
Have a look at these resume objective examples:
Example of a Career Objective for a Resume
Right
Hard-working (strong trait) retail associate, skilled in POS tech and inventory management (2 key skills). Seeking to increase sales and customer loyalty (what you hope to do for the company) as a Sales Associate at Chiller Outfitters (the position and company name). Built volunteer retail experience at Goodwill as cashier and restocker, receiving management commendation for excellent customer communication.
See? Just follow the formula as this candidate did.
There's one more thing. You can't just write one general resume introduction. You need to tailor every resume objective to the job offer. Look for keywords related to qualifications and responsibilities. Then, mention those in your objective.
Here's a description of a legal assistant job with the most important keywords marked: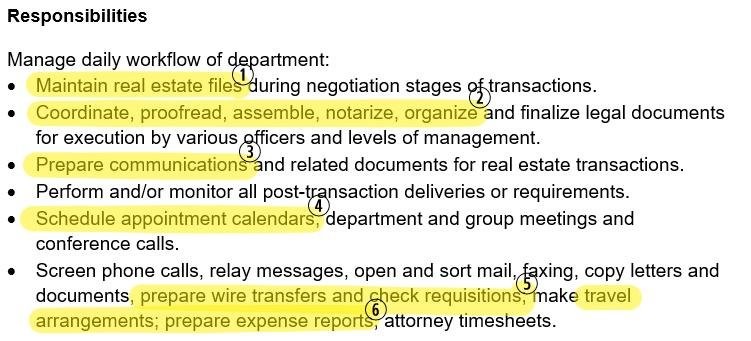 The candidate applying for this job hasn't worked as a legal assistant yet. But she held a few part-time personal assistant jobs with responsibilities similar to those in the ad. Plus, she completed a legal assistant course with certification.
Here's her tailored career objective for a resume, with highlighted fragments that match the job description:
Resume Objective Sample: Legal Assistant
Right
Engaged, organized graduate with Duke Continuing Studies Legal Assistant Certificate, specializing in real estate law(1). 2+ years of experience in coordinating and organizing(2) key communications(3) and scheduling executive calendars(4) for the Tiffany Group team. Seeking to join Hogan & Partners to deliver excellence, timeliness, and attention to detail preparing wire transfers(5), arrangements, and expense reports(6).
See that? For your own career objective on a resume, you need to pick those nuggets from your experience and education that fit your desired job like spandex.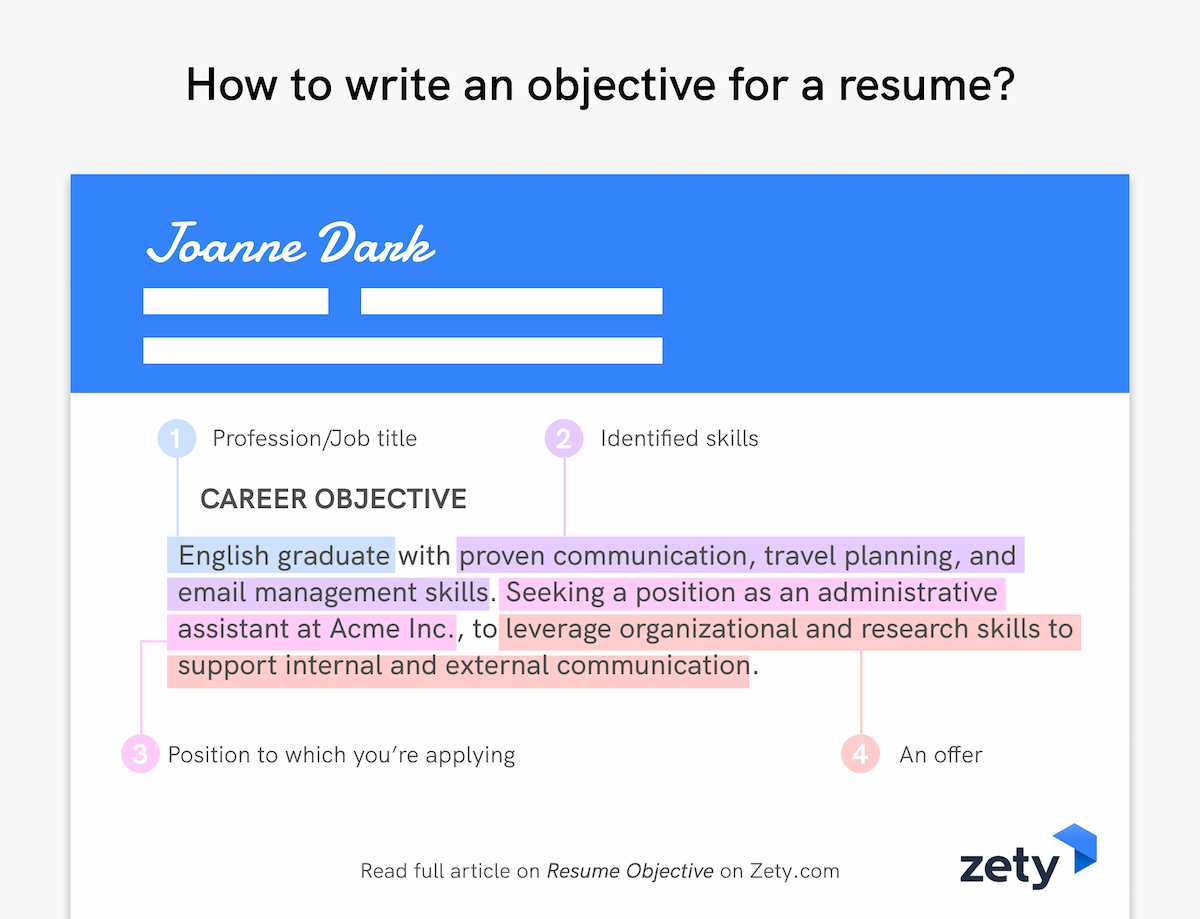 See how writing a targeted resume works in practice. Learn more: Targeted Resume: How to Make a Resume Match the Job
3. Examples of Resume Objective Statements
In the following section, you'll see career objectives for resumes for various professions and industries. But before we move on to that, here are some personal profile samples for common categories of candidates.
Sample Objective for a Resume Without Experience
Right
Organized and motivated employee able to apply time management and organizational skills in various environments. Seeking to join Acme Corp as an administrative assistant to help ensure good internal communications and budget management.
Sample Entry-Level Resume Objective for a College Grad
Right
Highly-motivated Business Administration graduate with a 3.9 GPA looking to fill a position as a Management Assistant at ABC Corp. Wishing to use strong data analysis and management skills to help the ABC Corp with your upcoming challenges.
Sample Career Objective for a College Student
Right
Senior year biology student at Anytown University (current GPA: 3.7), looking to join XYZ State University Department of Marine Biology Research Team as a part-time research assistant . Seeking to leverage strong data entry and lab maintenance skills gained through volunteer lab experience at the campus to ensure all research databases and libraries are easily accessible to XYZ State's students.
High School Student Resume Objective Example
Right
Dedicated team player (captain of the swim team 2 years) with proven leadership and communication skills earned as an editor-in-chief of the official school blog. Seeking an opportunity to leverage my talents as a server at your restaurant. I have the follow-through and positive attitude that will allow me to achieve company targets.
Sample Resume Objective for a Career-Changer (Different Industry)
Right
Diligent customer support representative with 3+ years of experience at a high-volume call center. Seeking to leverage a fast-paced work ethic with top-rated customer service (100%) to help DHL grow and meet future demand as the new delivery driver.
Sample Career-Change Resume Objective (Freelance to Full-Time)
Right
Results-driven freelance software developer, seeking to use proven Python and Ruby skills to deliver coding excellence to Cryptoconic, Inc. Have developed 3 web apps and 5 mobile apps. Contributed to 7 GitHub projects and debugged 17 apps. Wrote backend code for 40 working business websites.
Now you know the job-winning formula for writing a resume objective. If you need more inspiration, have a look at these job-specific examples of career objective statements below:
Resume Objective Examples for Specific Jobs
Administrative Assistant Objective Statement Sample
Right
Motivated Business Administration student seeking a position as an administrative assistant at Acme Inc., to leverage organizational and research skills to support internal and external communication. Experienced in Excel, PowerPoint, and Word.
Front-Desk Receptionist Resume Objective Sample
Right
2nd-year Communications student looking for a front-desk receptionist job at BanOrange Ltd. Experienced in working face-to-face with customers. Eager to expand my skill set to help boost all major front desk KPIs. Excellent organizational skills.
Executive Assistant Career Objective Sample
Right
Experienced Personal Assistant aiming to elevate career to the position of an Executive Assistant. Supported 4 entrepreneurs with organizing their work by setting up meetings, booking flights and hotels, and writing reports. Hoping to leverage organizational skills to help ABC Corp introduce time-saving schemes for all executives.
Pharmaceutical Sales Representative Resume Objective Sample
Right
Freshly-graduated Bachelor of Science in Biology looking for a sales representative position. Seeking to use professional knowledge and positive attitude to enhance sales figures for pharmaceutical products at Azult Medical. Gained practical experience in sales as a part-time customer assistant.
Project Manager Resume Objective Example
Right
Freelance translator with 5+ years work experience looking to transition to project management. Proven history of successful work with cross-functional teams. Seeking to deliver translation projects to a successful completion at AppleSauce New York. Completed online project management training in 2021.
Junior Marketing Assistant Resume Objective Sample
Right
3rd-year marketing student hoping to secure a Junior Marketing Assistant position at Ecom. Looking forward to improving my skills in SEO and SEM, whilst using my knowledge of content creation and social media management to grow traffic and revenue for Ecom's prestigious corporate clients.
Data Analyst Objective Statement Example
Right
Focused and diligent graduate in data sciences looks to leverage in-depth knowledge of data analysis to drive success in the business intelligence team at Quanticum Inc. Participated in research projects while at university. Proficient in Python, Excel, and Tableau.
Junior Accountant Resume Objective Sample
Right
Motivated Bachelor of Accountancy graduate (GPA: 3.7) aiming to secure an entry-level accountant position. Hoping to gain practical accounting experience with the peerless finance team at Masterson and Co. Experienced in QuickBooks and SAP.
Secretary Resume Objective Example
Right
2nd-year Literature student aiming for a secretarial position. Communicative and Fluent in French language. Hoping to support Fleur Du Mal by responding to all emails in a timely and professional manner and helping to manage executive's calendars. Experienced with international travel.
Human Resources Agent Career Objective Sample
Right
Empathetic psychology graduate (GPA: 3.8) looking for a position as Junior HR Recruitment Agent at TechHiring Pro. Experienced in interviewing and giving feedback as part of a college project. Hoping to use my soft skills and knowledge of workplace psychology to assist HR operations while learning about recruitment processes.
Social Media Marketing Manager Objective Statement Example
Right
Self-driven Marketing student seeking Social Media Marketing Manager position. Set up and managed social media profiles of three local businesses for 8 months. Used content creation knowledge to gain 4,400+ followers on Instagram account for a local florist. Hoping to support Einarp's clients by improving their brand recognition through social media presence.
Waitress Resume Objective Example
Right
Personable high school graduate looking for a waitress position at GourmetBurg. Experienced in hostessing during school functions. Hoping to use my positive attitude to ensure the comfort of all guests and assist them in making the perfect menu choice.
Bartender Career Statement Objective Sample
Right
Experienced waitress hoping to transition to bartender position at the Black Cat. Completed bartending and mixology course in December 2021. Hoping to use my excellent customer service skills to create great experiences for the patrons and employ my theoretical bartending knowledge to serve customized drinks and unique cocktails.
Entry-Level Teacher Resume Objective Example
Right
Empathetic third-year Education student specializing in elementary education seeking entry-level teaching position at Happy Brain Training Center. Completed 64 hours of teaching practice with young learners (6–8 years old). Keen to help the students at Happy Brain Training Center develop their literacy and numeracy skills using fun, engaging activities.
Customer Service Agent Career Objective Sample
Right
Communicative high school graduate seeking entry-level customer service position. Advanced speaker of Spanish and Portuguese. Experienced in assisting customers while working part-time as a shop assistant. Hoping to develop my negotiation skills and apply my problem-solving attitude to assist customers of BirdyBorder.
Accounts Receivable Specialist Resume Objective Sample
Right
Motivated Bachelor of Finance (GPA: 3.8) seeking Accounts Receivable Specialist position. Learned the fundamentals of accounts management during an internship at PlusFinance in 2021. Keen to support financial operations at OneCash with identifying unallocated payments on customer accounts.
Nurse Career Objective Statement Example
Right
Empathetic nurse graduate hoping to assist the nursing staff at Wisconsin General. Passionate about helping patients, well-organized, and able to perform under stress. Hoping to use my nursing knowledge and positive attitude to provide the best level of patient care as a nurse assistant at Wisconsin General.
Babysitter Resume Objective Example
Right
Energetic and warm-hearted high school student looking for babysitting work. Experienced in taking care of neighbours' children aged 3–10 for up to 6 hours at a time. Knowledgeable about children's activities, games, as well as age-appropriate songs and movies. Hoping to take pressure off families and allow busy parents to rest by babysitting their children while working for AngelSitters.
House Cleaner Resume Objective Sample
Right
Well-organized house cleaner experienced in helping local families keep their homes tidy. Knowledgeable about eco-friendly cleaning products and cleaning solutions for various surfaces and materials. Hoping to help homeowners save time and keep their property in pristine conditions while working for WeClean Ltd.
Shop Assistant Resume Objective Sample
Right
Personable high school graduate looking for a shop assistant position. Developed communication and negotiation skills while running the debate club at school. Fluent in English and French, intermediate in Spanish. Aiming to boost sales at Flowers and Stones Shop by professionally assisting customers and helping them make the best choice while improving my customer-service skills.
Once you're done with writing your resume, there's one more document you must focus on. Yup, it's a cover letter.
If writing a cover letter from scratch sounds like a nightmare to you—we've got your back. You create an effective cover letter in a few minutes using our cover letter builder here. Here's what it may look like:
See more cover letter templates and start writing.
Key Takeaway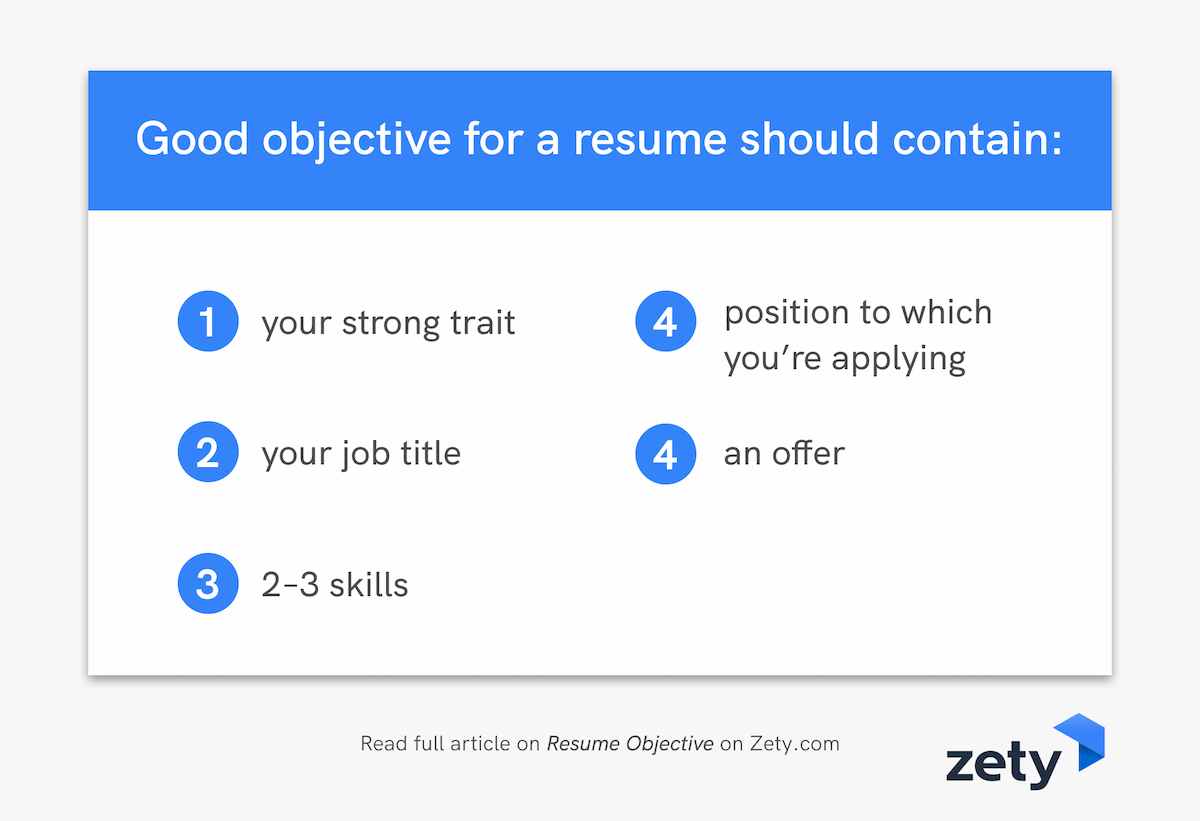 Here's what a good objective for a resume should contain:
Strong trait: "Highly motivated."
Your job title: "customer service representative."
2–3 skills: "trained in conflict resolution and communication."
Position to which you're applying: "seeking to join XYZ as a customer service rep."
An offer: "to build customer loyalty by leveraging interpersonal skills and offering top customer service."
Do you have any questions about how to write great resume objective statements and start landing more interviews? Leave a comment. I'll be happy to help.
Frequently Asked Questions about Resume Objective Examples
What is a good objective for a resume?
A good career objective is tailored to the position you're applying for, starts with a strong trait, names two or three key skills, and explains how your career goals answer the company's needs in three sentences, tops. Just like this one:
"Hard-working retail associate, skilled in POS tech and inventory management. Seeking to increase sales and customer loyalty as a Sales Associate at Chiller Outfitters. Built volunteer retail experience at Goodwill as cashier and restocker, receiving management commendation for excellent customer communication."
Where can I find some resume objective examples?
Believe us when we say we have 500+ resume examples with career objective samples for all professions. Are you a yoga teacher, a freelance business owner, or a basketball coach? We've got you covered. You can be a stay-at-home mom, transitioning from military to civilian, or just changing careers and still find what you need.
What to put for a resume objective statement?
Every resume section, including the career objective, needs to mention the keywords you can find in the job ad—but resume keywords aren't everything. Here's what a resume objective statement should include, too:
Strong and dynamic adjective describing you as a professional
Action verbs for more impact
Job title you're after and in which company
2-3 skills relevant to the job
Your hopes for the company aligned with their goals
Accomplishment if you have one already
Is a career objective necessary in a resume?
Not really, no, but you can be losing big time if you decide to leave this one out. First, it's your chance to let the recruiter know you've done your research, then to insert more keywords into your resume, and finally, let your achievements shine through from the very top. Wouldn't you like that?